Partnerships!!!!
MONTHLY PARTNERS
We have a vested interest in our clients and want to partner with you so you can reach your goals.
Join us to celebrate 30 years of Pilates teaching experience at the only Pilates Plus Studio in San Diego.
We understand the value of your $$, your time and your desire to receive the best Pilates class for the best price so we have created 4 "PARTNERS of PILATES PLUS SAN DIEGO" opportunities so you can continue to receive the quality instruction at the best prices in San Diego.
Click our "Monthly Partner" tab to see your choices and experience for yourself the true definition of Pilates.
Getting Started with Your Pilates Practice
One of the best things about Pilates is its accessibility. It doesn't matter if you're an Olympic athlete or a couch potato, there's a level of Pilates that will be beneficial for you. In fact, athletes of all skill levels enter Pilates at nearly the same spot, because Pilates is so much different than almost all other types of exercise out there.
There are several ways to get started with Pilates, including simply trying it in your own home. However, we strongly recommend that you attend a beginners class at Pilates Plus San Diego, there are several reasons for this:
–       A class will teach you about the nature of Pilates and its intended goals
–       A class will be sure to deliver all of the vital information that will help prevent injury and ensure your Pilates practice goes off without a hitch
–       A solid foundation built on the basics will ensure you get the maximum benefit from practicing Pilates
–       A beginner class might sound easy, but Pilates will challenge you and still provide you plenty of opportunity to grow and improve
Class in the Studio 
Taking your first class in a studio has many more benefits beyond those listed above. A studio class will provide a well-trained and competent teacher that can answer your questions and guide you through the early steps in your Pilates practice.
Beyond that, a studio will also provide all of the equipment you will need for any level of Pilates. That means you can save your money on purchasing equipment until you've decided Pilates is something you really enjoy.
All you need for your first Pilates class at a well-equipped studio is your body and maybe a bottle of water, and be sure to bring your enthusiasm and a desire to learn as well!
Private Lessons 
Another more personal option for a Pilates beginner is the private lesson. This is a fantastic way for a beginner to take advantage of the extensive experience of a knowledgeable Pilates coach, such as those at Pilates Plus San Diego.
The key for any Pilates beginner is to approach their first classes as a learning experience. A well-trained Pilates coach will demonstrate how to safely practice Pilates and explain the myriad of benefits offered by proper Pilates training.
At Pilates Plus San Diego our owner and founder, Bret Caslavka, has more than 20 years of experience learning and teaching Pilates. This valuable wealth of information can help even the most inexperienced Pilates practitioner understand the ins and outs of proper Pilates training. At Pilates Plus San Diego we believe that experience matters, and we're happy to share our experience with you.
Continuing Your Practice 
Pilates has many excellent benefits, but one of the best is that it's possible to do it anywhere! Once you've learned the basics of Pilates from an experienced trainer you can continue your practice in a gym, or even at home in your own living room.
Gyms provide several benefits for continuing your Pilates practice, including advanced equipment and the oversight of experienced professionals. But sometimes you simply can't make it to the gym, and that's where the flexibility of Pilates really shines.
If you'd like to learn more about Pilates please don't hesitate to contact us at Pilates Plus San Diego! We'd love to show you why we believe Pilates is one of the most effective and versatile workouts you'll find anywhere.
Take advantage of our experience, and learn how Pilates can help change your life for the better!
What Makes Experience So Important?
Albert Einstein once said that, "The only source of knowledge is experience." On its surface this quote may seem downright farcical, but once you begin to understand the distinct differences between "knowledge" and "information" you can start to see what Einstein was getting at.
Information is any piece of data that you've gathered throughout your lifetime. It might be the Pythagorean Theorem, or perhaps someone made you privy to your friend Joe's secret addiction to Cadbury Crème Eggs. These are examples of information, and information alone is not going to be terribly useful in your life.
Information alone only gets us so far. We may have a lot of information stored away in our heads that is simply useless without a practical understanding of how to use it. Maybe you know every facet of how to throw a perfect 92 mph fastball, but you're not going to be able to throw that fastball without a whole lot of real world experience. Experience is what turns all of the useless data points in our heads into real, applicable knowledge.
Once you have the experience and the knowledge to put something into practice, then all bets are off. Armed with these tools your own motivation is the only real limiting factor. Knowledge and experience help us to not only learn something, but to truly understand it. Knowledge allows us to grow and cultivate an intimate understanding and familiarity with a subject, and eventually to contribute our own developments to the field.
We all have our own unique experiences that make us the individuals that we are. Each one of us has a distinct knowledge that allows us to contribute, share and grow with each other and on our own.
At Pilates Plus San Diego we have long prided ourselves on our experience. We were one of the first Pilates studios in the San Diego area, and we have used our years of experience to cultivate a deep and persistent knowledge of our craft. We like to say that, "Experience Matters," and we believe that our experience allows us to deliver one of the most innovative and effective Pilates practices anywhere.
The thing about knowledge is that it begs to be shared. Fortunately, we love to share it! We take great pride in our experience, and we are always happy to share the things we've learned through many years of practice with all kinds of students. It doesn't matter if you're young or old, experienced or a first-timer, at Pilates Plus San Diego we can find a perfect way to keep you feeling healthy and happy. Why are we so confident in our ability to do this? The answer is simple: we've been doing it for decades.
Albert Camus said that, "You cannot create experience, you must undergo it." During many years teaching Pilates and working as fitness professionals we have undergone a great deal of experience. Now we'd like to bring that experience to you. Come visit the studio and find out why Pilates Plus San Diego has been successful for so many years. Meet our instructors, take a class, learn something new,n and you'll quickly start to see why experience matters.
5 Ways Pilates Will Change Your Life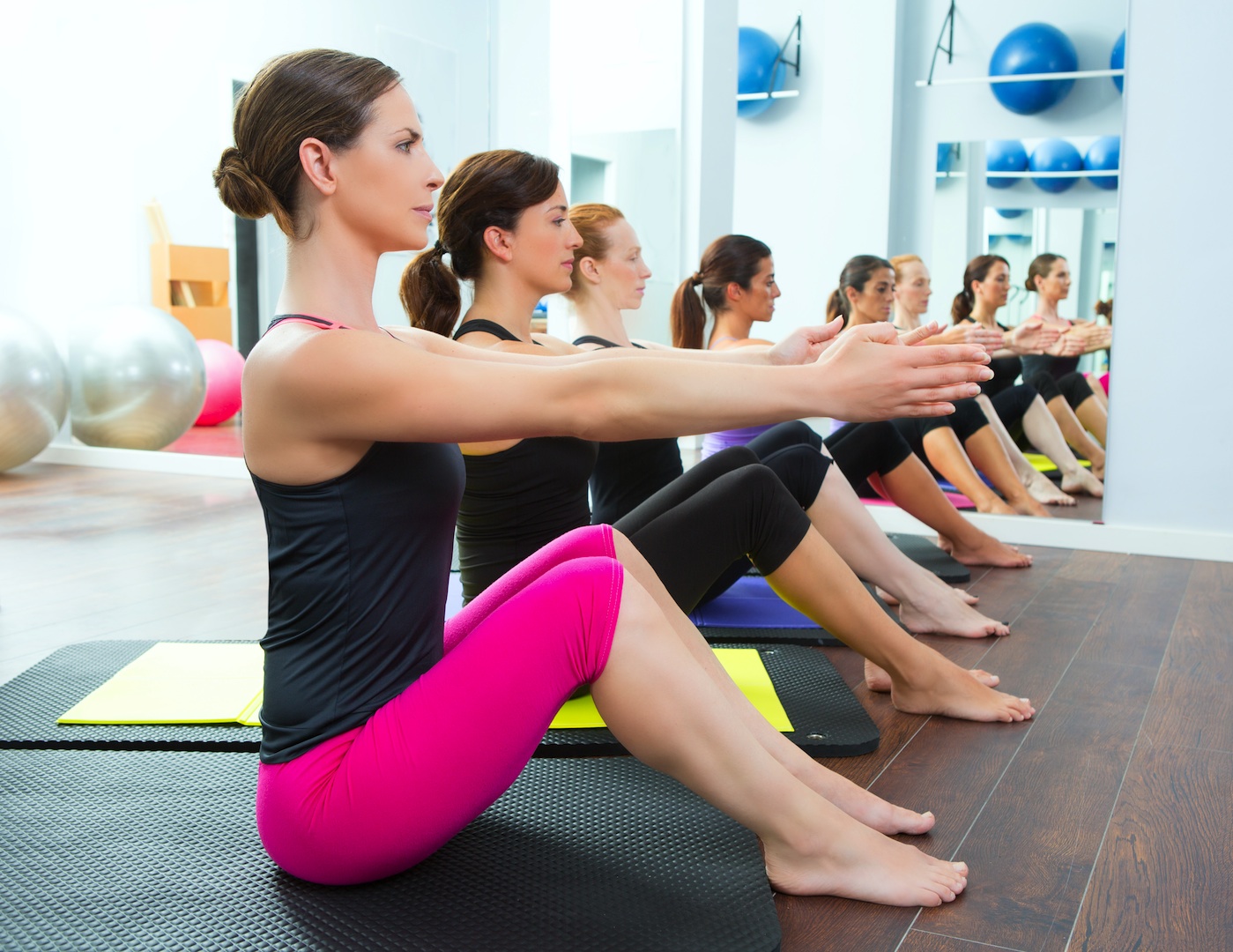 It's not always easy to convince yourself to go to the gym, but there is one kind of exercise that will not only come naturally to you, but will also provide you with a myriad of benefits not found in other exercises. You may have already guessed – it's called Pilates.
Pilates is more than just a modern trend, it's a long-established system for enhancing your overall health and well-being. At Pilates Plus San Diego we've been bringing the benefits of Pilates to the people of San Diego for more than 20 years. We believe experience matters, and we'd like to share why Pilates is such an important part of a well-rounded lifestyle.
1. Combat Stress
Our modern lives have no shortage of stress, and it seems like there's rarely time in the day to get everything done. That's why Pilates is a perfect fit for today's fast-paced lifestyle.
One of the most encouraging aspects of Pilates is that it provides results quickly, encouraging you to come back again, and to keep coming back over and over. Pilates is more than effective, it's efficient. An intense, impactful, full-body workout takes just a little longer than an hour, so you can squeeze it into your busy schedule. Yet, perhaps most importantly, Pilates is a great stress reliever. There's no shortage of stress in today's modern world, so a fast, effective, stress-burning workout is just what you need.
2. A Simpler Workout
Are you one of the many people who have just never felt at home at the gym? Whether it's the complicated equipment or the leering muscle-heads, gyms can be intimidating and often uncomfortable places.
Pilates is different. The equipment used in Pilates is simple and straightforward, and of course there will be a qualified instructor there to guide you through the exercises.
In just a few short sessions you'll be comfortable and knowledgeable about the workouts, so you can even do them on your own. But don't worry, expert Pilates instructors are always available to help ensure you continue to grow and develop your technique so that you can feel better than ever before.
3. Learn to Love the Reformer
A great, high-intensity workout on the Pilates Reformer (the ubiquitous machines you probably associate with Pilates gyms) can actually burn many more calories than a typical mat class. A surefire way to lose weight is to couple your reformer workouts with your standard cardio – you'll see results in no time.
4. Improve Poor Posture
Few things sap your confidence and negatively impact your appearance like poor posture. Luckily Pilates has a well-founded reputation for improving strength in the core, neck, upper and lower back. Strengthening these muscles naturally counteracts the negative affects of slouching, and will help your correct your posture without even realizing it.
5. Prevent and Correct Back Pain
When Joseph Pilates first started developing his Pilates system it was actually intended to be a rehabilitative tool. Pilates believed that by focusing on breathing and proper spine alignment, individuals could strengthen their torso, back and abdominal muscles while simultaneously reducing stress. All of the increased support from a strong core can help prevent and remedy many back pain ailments, and improve posture to boot!
If you're interested in taking advantage of the wide range of benefits offered by Pilates call the experienced experts at Pilates Plus San Diego and learn how you can get involved. Pilates Plus San Diego provides classes every day for all kinds of skill levels, so you can fit Pilates into any schedule.
Sign up for a class today, or even stop by the studio to learn more about what Pilates can do for you!
New Years…New Resolutions…Tried-and-True Pilates techniques
It never fails, does it?
One year ends and the new one rolls up, fresh and sparkling, and it's time to make resolutions! Most of these end up revolving around health in some way or another, whether losing way, getting stronger, or maybe training to finish that marathon you've always wanted to do. Now, resolutions in themselves are great. It's wonderful to set positive goals for yourself and pursue them, but the issue lies in the fact that most people abandon their goals by the end of the first month.
Why? Because often people try to cram tons of new habits and new techniques into their routine and they become intimidated because these "new" resolutions aren't familiar or habitual in any way. They then eventually fall back on what's comfortable and what they're used to, even if it winds up being unhealthy for them in the long run.
With Pilates, though, that dilemma is no longer in play! That's because at Pilates Plus San Diego, we base all our classes and moves on the core Pilates approaches and techniques that have been in effect ever since the system was first created by Joseph Pilates back in the 1920s. Fads come and go, unnecessary equipment gets more expensive, and people switch from one diet to another in the hopes of getting more fit. But at our studio, we simply stick to the concepts that we know work…and it doesn't just work for a few people, but it works for practically everyone, young and old, at any stage of health and fitness.
So our resolution for 2014 isn't necessarily to drastically change what we offer and how we teach classic Pilates moves and systems. Instead, we resolve to continue to grow and expand the many ways and places we can offer our services and classes to the public. We resolve to be there to help you meet your fitness and health goals, giving you peace of mind knowing that the steps taken are reliable and will get the results you want in the long term—without the guilt or discouragement that more transitory resolutions might incur.
Happy New Year from your friends at Pilates Plus San Diego! We can't wait to see what sort of adventures we share together in 2014.
Pilates and the Power of Injury Prevention
When you're trying to stay healthy or get into better health, there are few things worse than injuring yourself in the process. Not only do you have to deal with the pain itself, but depending on the severity of the injury, your health goals could be delayed for months, if not years.
Beyond just an unfortunate accident, physical injuries usually occur for one of several main reasons. One is simply having poor or incorrect form when trying to perform an exercise, placing undue stress on a joint or muscle that it shouldn't be working against. Another issue is having a particular joint or muscle group that is weaker, either because of poor posture or other health issues that have caused that body part to be underdeveloped. All of these increase the risk of injury, which then can cause a cascade effect across the rest of the body.
That's one of the incredible things about Pilates—it's designed to not only avoid injury (when done correctly) but it also strengthens you in ways that helps you ward off injury in many other activities or sports. Plus, if you've already experience an injury and are trying to recover strength and flexibility, Pilates is renowned for its rehabilitative effects.
For one thing, Pilates is low-impact, meaning you won't be suffering from inflammation or overuse of any particular joint or muscle. It also promotes high movement control, meaning you aren't flailing about, but are guiding your body through precise motions at all times. The flexibility and strength Pilates provides contributes directly to more dynamic physical control and awareness, lessening the chance of future injury.
Pilates minimizes dangerous exercise tendencies, such as too-fast breathing, lack of concentration or control, loss of alignment, and jerky motions. All of these are warning signs that a person might be pushing themselves closer to potential injury. There's also the unfortunate mentality of "no pain, no gain" when it comes to fitness. Now, does that mean one should give up an exercise the moment any level of discomfort comes into play? Of course not. There's a time and place for intensity within a workout, but this doesn't mean suffering unnecessary pain or ignoring mental and physical alerts that might indicate a joint needs time to rest and recover.
Have you suffered injury in the past that kept you from achieving your health goals? Have you considered whether Pilates might be the answer to get you back on track in a safe, yet effective manner?
A Pilates Studio By Any Other Name…
With a proliferation of fitness trends and associated studios, it can often be overwhelming or confusing when trying to choose where to invest your time. Should you attend a generic gym? A yoga-specific studio? Crossfit? A particular martial arts or one of those dance-the-fat-away classes? Let's say you've settled on Pilates as your activity of choice. Well, sadly, that doesn't necessarily make it any easier, as dozens of Pilates studios sport similar or identical names, and there seems little that sets any of them apart aside from the instructor names, class times, and maybe a different piece of equipment here and there.
Among all this fluff and fitness confusion, Pilates Plus San Diego stands tall, head-and-shoulders above the crowd. Why?
First off, Pilates Plus San Diego is able to trace its instructing heritage just two generations removed from the actual developer and founder of the Pilates system—Josef Pilates. As such, Pilates Plus San Diego has always sought to continue the core heritage of the original Pilates program, without watering it down with trends, gimmicks, or commercialized routines that don't add any true value. Pilates Plus San Diego desires substance over image, and quality over quantity in everything we do.
At the same time, Pilates Plus San Diego pairs the fundamentals with education, informing all class attendees as to exactly how their minds and bodies are benefiting from the moves and routines they're going through. All instructors possess in-depth knowledge of Pilates and incorporate a teaching approach within the classroom environment—with the main instructor himself possessing 25 years of Pilates teaching experience! This increases the quality of the results participants experience, and empowers them to understand what they're doing and why, rather than just mindlessly going through the motions.
What's the "Plus" about then? One thing you can be sure—it's not bringing in flash-in-the-pan programming or trying to sell participants on equipment or gear that doesn't provide any real benefit. Instead, Pilates Plus San Diego also offers massage, acupuncture, and other health-oriented services to improve members' quality of life. It's this combination of originality and versatility that continues to set Pilates Plus San Diego apart from any other studio in the area.
So if you've been searching for that Pilates studio that is grounded on the basics, provides long-term results, and promotes a lifestyle of health and fitness versus just hawking the latest trend, you'll find exactly what you need here. From kids to adults to senior citizens, Pilates Plus San Diego is a home for everyone!
The Why of Warming Up
Often, during workouts, there's a big part of us that looks forward to the end of the exercise, when we can relax and cool down, enjoying the rewards of pushing our bodies to new limits and in new ways. While the rest after a workout is definitely a benefit, don't let yourself get distracted from the cool-down's pivotal predecessor—the warm-up!
When engaging in any sort of physical activity, we often talk about "warming up" and many physical instructors will coach you through a warm-up of some sort before getting into the actual planned routine. Why is this? What's so important about the warm-up that it seems to precede almost any major workout session?
Let's consider first what happens to the body when we warm it up. First off, you start taking in more oxygen as your breathing gets a bit faster and deeper. At the same time, blood flow increases, and both of these processes start delivering more nutrients and oxygen to your cells. This primes your body for more intense physical activity, versus just leaping into the stress and shocking your system into action.
Warming up also mentally prepares you for what's to come. It helps you be more alert and focused on the activity or session, encouraging more proper form and intensity. Also, muscles and joints that have been warmed up are far less prone to injuries, such as tearing or sprains, and can help you get into positions or perform moves you might otherwise not feel comfortable doing from a stand-still.
Based on this, taking five to ten minutes for a pre-class warm-up is obviously of benefit. And the great thing is, a warm-up can take many forms. It can be as simple as a vigorous walk, a few minutes on a stationary bike, lifting some light weights, or some other light aerobics. Anything that gets you moving and prepares you to engage in more strengthening activities will do.
So next time you start going through a pre-class warm-up, don't worry that it's a waste of time; instead, take confidence that a proper warm-up is an investment in a better overall Pilates experience.
You're at a desk all day…so incorporate Pilates there!
Many of us spend a minimum of eight hours a day sitting at office desks—and then may spend even more time sitting at home after escaping the workplace! This constant position can impose numerous different health issues on employees and even heighten many health risks as one gets older. This includes everything from pressure on the spine, shallow breathing, weight gain, and extra emotional stress to muscle loss, arthritis, eye strain, and persistent pain in a variety of areas.
Why does all this happen just when we sit too often, too long? Much of it is through muscle imbalance. The slumped posture many of us adopt when at a desk for long hours overworks some muscle groups while letting others are weakened or overstretched. For instance, the psaos muscle can tighten, making raising the legs difficult, while abdominal and pelvic muscles weaken, leading to a softer core. At the same time, neck muscles shorten and tighten, causing headaches—further disrupting focus and productivity.
One simple Pilates tool and technique that can start to help counteract some of this is swapping out your desk chair for a fitness ball. This tend to eliminate most slouching and restores natural curvature to the spine while giving core muscle groups subtle workouts. Plus, you can incorporate small, quick Pilates moves using the ball without ever having to leave your cubicle or office!
Also, try soft, gentle stretching throughout the day to ease any aches or pains that might've built up due to sitting in one position for a while. And don't forget that you're enhancing your awareness of how your body is feeling, making it likelier that you'll detect growing discomfort and adapt a healthier posture before it becomes overworked and turns into chronic pain.
A few other office health tips:
Instead of always emailing coworkers, get up and walk over to their cubicle or office to relay your message, even if they're on another floor. The time moving around will benefit you in the long run.
Depending on how many floors your building has, consider taking the stairs to your office, rather than the elevator.
Stay hydrated! Rather than relying solely on coffee (which can actually dehydrate you in the long run), keeping water handy will help keep energy levels stable, plus improves flexibility and can relieve joint pain.
What are the essential tools you need for a Pilates program?
Seems like almost every week, another fitness instructor (famous or otherwise) is introducing a new tool, toy, or gimmick to add to established Pilates programs. Why? What do these additions truly bring to Pilates that wasn't already there?
Now, Pilates definitely can involve certain types of equipment, like mats, fitness and medicine balls, blocks, elastic bands, and everything else that's necessary to correctly work your way through a session (don't forget to include comfortable workout clothes in there too!). But what do I mean by "necessary" and how can you tell if a new fitness product is actually going to help you improve your Pilates performance?
I've come up with a few warning signs that are good indicators if the latest device is actually worth considering or is just the latest attempt to part Pilates students from their hard-earned money:
It only targets a single body part – Even if it does work out that part well on its own, why would you invest in a product that only does one small job, especially when Pilates is more about getting your entire body and mind working in conjunction with itself?
Is it redundant? – Does the product just encourage you to perform an exercise that you could do on your own, with equipment you already possess?
Too-good-to-be-true – You know what I'm talking about. That piece of equipment that's going to TRANSFORM YOUR BODY, in 30 seconds a day. Guaranteed! Money back! Right.
Paid shills – Okay. Maybe "shill" is too strong a word, but if a product is backed up by little more than paid spokespeople, then be careful. Usually the point behind those amped-up, celebrity-sponsored marketing campaigns isn't to actually help your fitness improve. It's to make them money! Buyer beware.
The reality is, the classic Pilates program already addresses all the strength, balance, and endurance issues that participants will need. It's not going to be revolutionized overnight by a fresh face bringing the latest fitness device to market. In fact, that sort of thing only tends to complicate one's ability to focus on what makes Pilates so great in the first place!